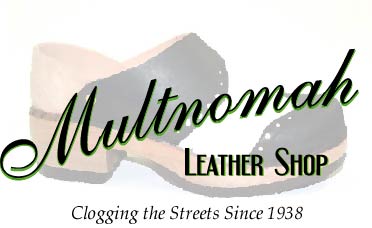 Classic Clogs
Here are our Classic Clog styles. Before ordering, please go to our
Fitting Room page for sizing instructions. Go to the Colors page for current color choices.
Shipping of $14 will be added when you order.
Questions? Call Mark at 503-227-4887
Order Here or call 503-227-4887

Classic Clog: $159.50
Our most popular style since 1938, made just for your feet.

Classic with Plain Strap: $169.50
We can cover the heel piece with leather to match or contrast the front.

Classic with 3-Strap: $169.50
Dress them up with some contrasting straps. We can do the sole rubber in Black, Brown, White or Red

Classic with Braided Strap: $169.50
The braid can be done in contrasting colors if you want.

Classic with Perf Strap: $169.50
The upper color peeks out of a row of holes in the strap. Staining the wood darker is possible.

Classic with Strap & Buckle: $169.50
We can do the buckle in Brass or Nickel (rivets, too).